Crystal's native HubSpot integration allows you to view Crystal's rich personality data directly in your CRM.
Connect your Hubspot account and automatically enrich your contacts with Crystal's personality data. Leverage new data fields - like DISC type, DISC Overview, behavioral traits, and more - for your Contacts.
Hubspot - Implementation Instructions:
Click the Hamburger Menu ➞ Organization ➞ Integrations

Step 2: Connect your CRM account
Click Connect ➞ Sign in
This will automatically create new fields in your CRM. You may have to adjust permissions to show the newly created fields and/or edit where they show up in your views.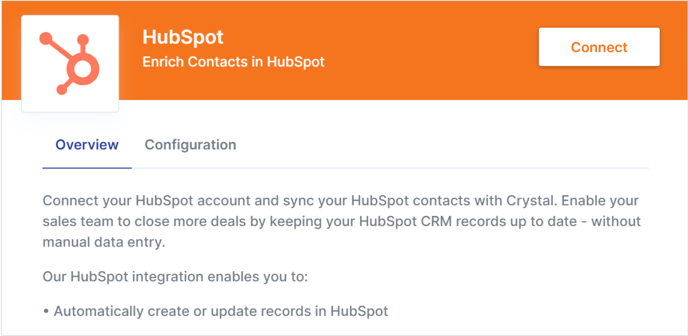 Step 3: Configure your CRM
Add your API key shared by your Crystal Customer Success Manager.
Mapping the CRM field which contains the LinkedIn URL is helpful for match rates but not required.

Step 4: Select your enrichment configuration by toggling on the most appropriate options
See which enrichment configuration options below fits best with your processes.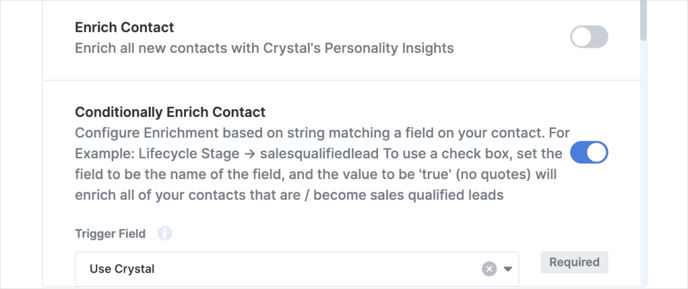 Enrich Contact
When this setting is turned on, it will add personality data to every new contact upon creation.

Conditionally Enrich Contact
This option allows you to enrich contacts that meet a certain field condition. This is helpful if you want to only enrich contacts that fall into a certain lifecycle or lead status.
i.e. Lifestyle Stage > Sales Qualified Lead triggers a contact to be enriched
To use a check box, set the field to be the name of the field, and the value to be true will enrich all of your contacts that are/become Sales Qualified Leads.
Step 5: Click the X in the top left-hand corner of the window to close out of the integration setup.
Selections save automatically.