Learn more about your potential fit in a role with Crystal's Jobs tool.
1. Take Crystal's free personality test
Crystal's personality assessment will help you better understand your own natural strengths, blind spots, energizers, communication style, and more.
2. Analyze a Job Description
By visiting a job posting on LinkedIn, Crystal's Chrome Extension will analyze that job to predict the "Ideal Personality Type". Then, the Chrome Extension will be able to show how your personality compares:

You can also create this prediction by visiting the Crystal website and copy-pasting the job description to help Crystal generate the ideal personality type. When that's created, you can add yourself as a candidate to see how you compare: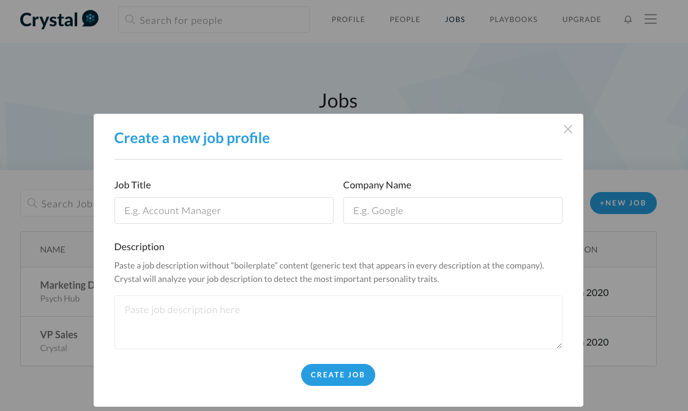 3. Dig into the Details
You'll be able to see the basics of this prediction in the Chrome Extension, but you can refer to the Jobs page in the Crystal Dashboard, as well, for more information.
4. Build Playbooks
When you create multiple jobs, you can see how you fit for each of them at once by creating an "Evaluating Jobs" Playbook in the Playbook builder.


This will offer more insights about your Job fit with each position. Learn more about building Playbooks here.