You can get started with Crystal Jobs by:
1. Create a New Job

Visit the Jobs page to create a new job. Copy-paste your job description into the tool to help Crystal generate an "Ideal Personality Type".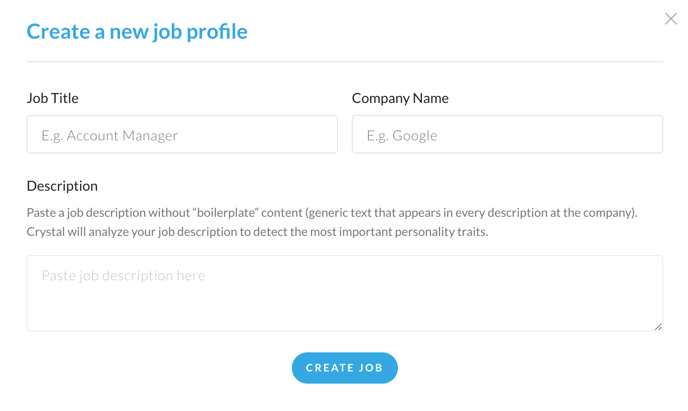 2. Take the Job Expectations Survey
To further refine the ideal personality type for the role, you and any other stakeholder in the hiring process can take a survey indicating the most important behaviors in a candidate. This will increase the accuracy of Crystal's ideal candidate personality.

3. Add candidates to the Job page

You can add candidates to the Job by sharing the invite link to have people take Crystal's free personality assessment or searching for an existing Crystal profile. This profile can be one they've previously created by taking the assessment or one that you've created by predicting their personality with Crystal's Chrome Extension.

4. See how they compare
When you add candidates to the Job page, you'll see how they are most likely to fit with the role's expected behaviors.


5. Build Playbooks
Once candidates are added to the Job, you can create Playbooks to interview a candidate, understand the ideal candidate, or compare all candidates. Learn more about building Playbooks here.