Crystal's native integration with Outreach allows you to surface personality insights directly in your CRM with the Crystal Chrome Extension.
Before you get started, make sure you've correctly set up the Crystal integration with Outreach.
Crystal's Outreach Integration provides Crystal's rich personality data directly in Outreach by bringing the Crystal Chrome Extension into Outreach.
To access Crystal's personality insights, open the Crystal Chrome Extension on any Prospect record in Outreach. If you have everything set up, you'll see Crystal's Chrome Extension pinned to the right of your screen. Click "View Personality." To view insights in Outreach, you'll need to have already predicted the contact's personality in LinkedIn with Crystal. Crystal will automatically match your predictions with your Outreach Prospect records when we find a match, or we'll prompt you to match a prediction if we're unsure manually.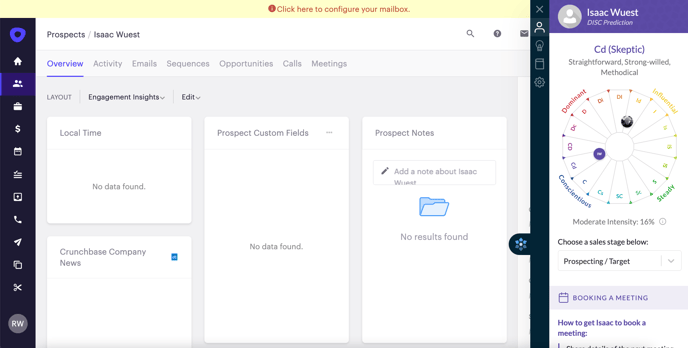 Leveraging these insights in Outreach, you can manually queue Prospects into specific DISC-based sequences.
If you're looking to automate Outreach sequences based on personality, check out our integrations with Salesforce and HubSpot. Then use Outreach's native integrations with these CRMs to pull in Crystal personalities as custom fields under Prospects.