Crystal's native integration with HubSpot allows you to surface personality insights directly in your CRM and automate all of HubSpot with the new DISC Type contact property.
Before you get started, make sure you've correctly set up the Crystal integration with HubSpot.
Crystal's HubSpot Integration provides Crystal's rich personality data directly in HubSpot with two powerful features: the Crystal Chrome Extension in HubSpot, and personality data enrichment for your CRM records.
To access Crystal's personality insights, simply open the Crystal Chrome Extension on any record in your CRM. If you have everything set up, you'll see Crystal's Chrome Extension pinned to the right of your screen. Click "View Personality". To view insights in HubSpot you'll need to have already predicted the contact's personality in LinkedIn with Crystal. Crystal will automatically match your predictions with your CRM records when we find a match, or we'll prompt you to manually match a prediction if we're unsure.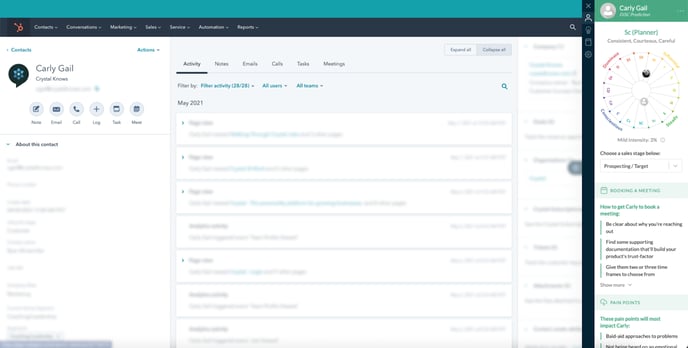 Crystal's HubSpot integration also brings DISC personalities into your HubSpot records as a custom field on the contact level. DISC Types are pushed over for all predictions for contacts you have in Crystal that are also in your CRM. Look for the field called DISC Type on the Contact record.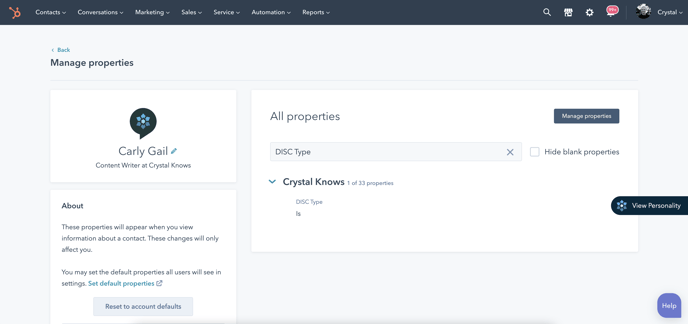 Finally, leverage DISC Types in HubSpot to build out custom workflows, sequence contacts based on their DISC type, or gain valuable reporting based on personality. For example, if we want to know how our Sales team is performing against personality types, we can create a cross-object report between contacts and opportunities breaking down the number of closed-won deals by DSIC Type.